Jennifer Cook: Master of Immortal Metal
This week, What I Bought vs What I Got had the honor of chatting with Jennifer Cook, the fiery siren whose ophidian obsession has made her the darling of immortal metal. Her extraordinarily detailed serpentine sculptures, as magical as they are beautiful, could easily render Medusa to a pile of smoldering ashes. Alas, not even Jennifer's mystical legacy is immune to the devastating gaze of the online retail scam industry, making her a prime target for those who would shamelessly strike at both her reputation and her show-stopping creations; slowly squeezing the life from all she has worked so hard to bring into being.
Location: Yulee, Florida, USA
Wildlife artist, Jennifer Cook, does it all. This sole proprietor designs, sculpts, molds, casts, packs, and ships her fine artwork all over the globe. And, like so many independent artists and designers, she has even taken on her own PR, IT, taxes, and everything else required to make her ecommerce enterprise flourish. Driven by exceptional talent and an affinity for detail, Jennifer has made the realm of bronze sculpture her own. Producing unparalleled reptilian pieces so striking, they have brought the venomous "retailers" running, causing endless heartache and eventually necessitating the removal images not yet robbed from her personal forum and the halting all of her online sales. Crippling her bottom line and resulting in thousands of dollars spent on legal fees, instead of on the remarkable medium to which she has been dedicated for more than three decades.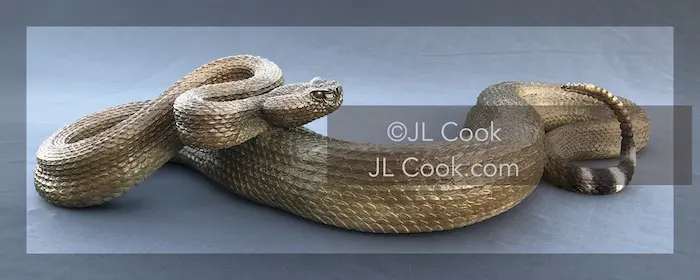 One of Jennifer's amazing sculptures.
Jennifer sculpted commercially for the toy and giftware industry for 20 years before she made the serpent her muse and struck out on her own. In 2006, she began displaying her snake themed replicas and jewelry in a portfolio on her website, https://snakearts.com/; taking commissions from commercial clients, but not yet selling her work to the public. Looking for a more affordable option than ecommerce, Jennifer decided to open an Etsy shop to offer her captivatingly unique wares to the online masses, but it didn't take long for her to see that Etsy wasn't going to work for her. Unhappy with the marketplace's everchanging policies and restrictions, Jennifer left Etsy and transformed her webpage from a portfolio site to an ecommerce site.
Not 24 hours after linking her site to PayPal, her images and content were taken, without permission or image credit, and posted on deleterious websites advertising all over Facebook, Instagram, and Pinterest. In the following weeks, the scams would steal images from the sold section of her now defunct Etsy storefront, and use her photographs to draw in unsuspecting buyers while claiming to sell Jennifer's bronze sculptures for pennies on the dollar. Her website itself has been cloned twice, she has been threatened through her website contact page, and the information she has provided to have her images removed has been used by these pernicious con-artists to sign Jennifer up for dating and adult websites.
Jennifer's work is species specific and exceedingly precise, often taking months (or even years) to complete. One piece, featuring two twisting rattlesnakes as door handles, has been most notably exploited. Each part of the figures were meticulously sculpted and checked for anatomical accuracy, factoring even the snake's scale count into the perfection of each pull. The metal casting workshop that produces Jennifer's finished work (called a foundry) had difficulties with the fabrication of the handles because of each snake's unique complexity, and the need for them to function not only as fine art, but also as the door handles for which they were intended. They had to be able to stand up to daily use as well as out of door elements and the demanding test of time. And, if that wasn't enough, the foundry had only one chance to cast the snakes. If the bronze doesn't properly cast, they are virtually impossible to repair, making it necessary to scrap the casting. As each hand cast snake cost well over $1,000 USD to produce, and with gallery commission/overhead adding 30% or more to that number, one can easily imagine how incredibly taxing and expensive this single production was for Jennifer.
At present, Jennifer spends up to six hours a day searching for her stolen images and issuing DMCA takedowns to the platforms that host these sites. Alibaba, Cloudflare, Shopify, Pinterest, Google, Amazon, and more have all hosted shops featuring her stolen intellectual property. Worse yet is what these scam sites send in place of her exquisite work, as they continue to use her images to lure honest customers into throwing away hard-earned money on tiny plastic "copies". Alibaba has even claimed to sell Jennife's sculptures at wholesale prices. As Jennifer already makes very little money, the scams have crippled her business near the point of no return, leaving her with precious few options to save it. Jennifer has said, "If we can't stop this, there's no point left in creating."
I cannot think of a more profound statement in this fight for the right to control how one's intellectual property is utilized.
"The only thing necessary for the triumph of evil, is for good men to do nothing." ~Edmund Burk
For more information on current social media scams, how to recognize them, and how you can help stop them, visit What I Bought vs What I Got and join the fight against the blight that is singlehandedly destroying honest ecommerce.
Sarah Peak-Stacey
What I Bought vs. What I Got
Fort Collins, Colorado, USA

---
Join us in our fight against fraud!
Consumers: Before buying online, enter a shop's URL into Qti.ai's Scam Intelligence Engine that detects the legitimacy of ecommerce sites: Qti.ai/scami (There is no charge for this service.)
Small businesses: Inquire about our Brand Protection services at Qti.ai/scami/inquiry
Stay tuned to Qti.ai and our social media outlets for all of our latest developments in improving the integrity of ecommerce. Contact cheryl@Qti.ai to discuss ways to work together.